Prefabricated Container Cabin Container House for Dormitory

1. Description:
Flat Pack Container Hosue Camp is designed according to specifications of shipping container exactly. It is made of prefab light steel as house frame and sandwich panel for wall and roof, then facilitated with windows, doors, flooring, ceiling, and other additional accessories.
They have been fitted with functional container house accessories. These container home units are transportable and comfortable to live in temporarily or permanently.

1. Size: 20ft as requested

2. Model: Modified/Flat Packed

2-1. Modified/Converted Model: We make further decoration based on the new shipping container.

2-2. Flat Packed Model: We make it based on the size of shipping container with our own steel structure materials




2. Characteristics:


1. Cost Saving on transportation, construction and change internal layouts.
3. Could be lifted, fixed and combined freely.
4. Efficient Transportation(Transportation saving up to 75%;Crane and forklift capability)
5. Fast Construction (Construction time reduced up to 40%;Installation can be achieved with two skilled workers)
6. Anti-rust and normally more than 15 years using life
7. Good ability to assemble and disassemble for several times.
Main material

Size
20ft~L6.06xW2.438xH2.896m
40ft~L12.192xW2.438xH2.896m
Weight
2000kgs /unit~20ft
4000kgs /unit~40ft
Main steel frame
Material: Q235 steel ; Thickness, 3.5mm
Surface working: painting, thickness 150um
Forklift openings: size 100*250mm, distance is 1200mm
Roof

Outside Steel: 1.2mm color steel sheet

Keel: 50x50x2.5mm steel square tube purline

Insulation Layer: 50mm fiber glass, 33Kg/m3

Ceiling: 9mm thickness OSB borad and
12mm thickness PVC ceiling
Floor

Floor bottom board:0.25mm thickness steel sheet

Keel: C100x40x2.0mm steel purline

Insulation Layer: 100mm thickness fiber glass,33Kg/m3

Wooden floor: 15mm thickness bamboo wood
Surface: Floor leather 1.5mm thickness
Wall
Wall Panel: 75mm thickness sandwich panel
(Alternative insulation material: Fiber Glass, EPS, Rock Wool)
Window

PVC frame sliding window

Door

Sandwich panel steel Door






3.Technical Parameter of standard prefabricated house:


Wind resistance: Grade 11(wind speed≤111.5km/h)
Earthquake resistance: Grade 7
Live load capacity of roofing: 1.5kn/m2
External and internal wall heat transmission coefficient: 0.35Kcal/m2hc


Live load of floor is 2.5kn/ m2



4.Plans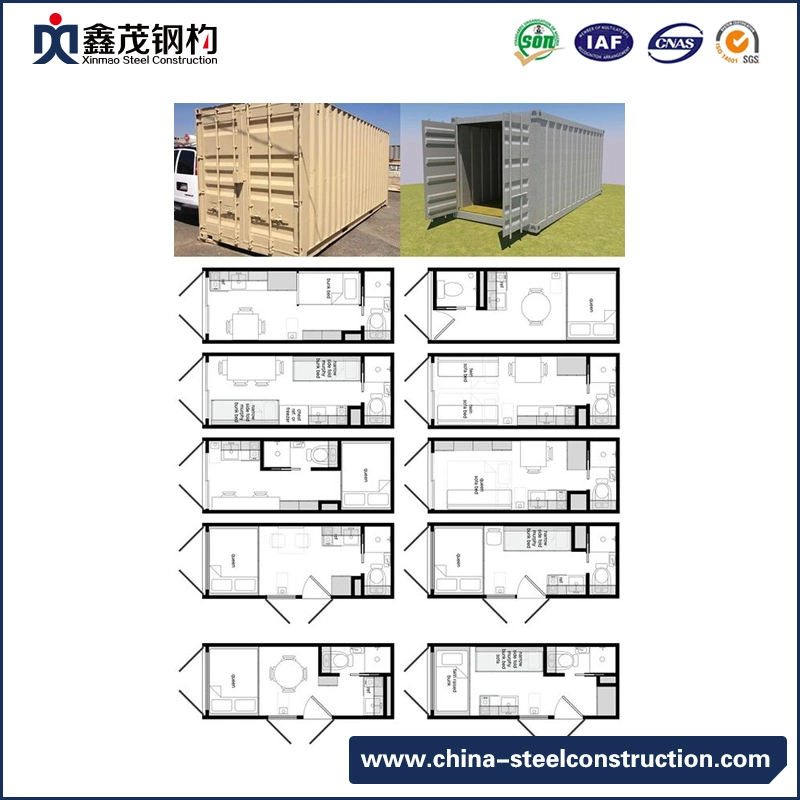 If you are in need, and we would like to do the design for you, please contact me with these detials.

1. Dimension: Length, width, height, eave height, roof pitch, etc.
2. Doors and windows: Dimension, quantity, position to put them.
3. Local climate: Wind speed, snow load, earthquake resistance etc.
4. Insulation material: Sandwich panel or steel sheet.
5. Crane beam: Do you need crane beam inside the steel structure? And its capacity.
6. If you have other requirements, such as fire proofing, isolated roof, etc, please also inform us.
7. It's better if you have your own drawings or pictures. Please send them to us.
5.Facilities For Choosing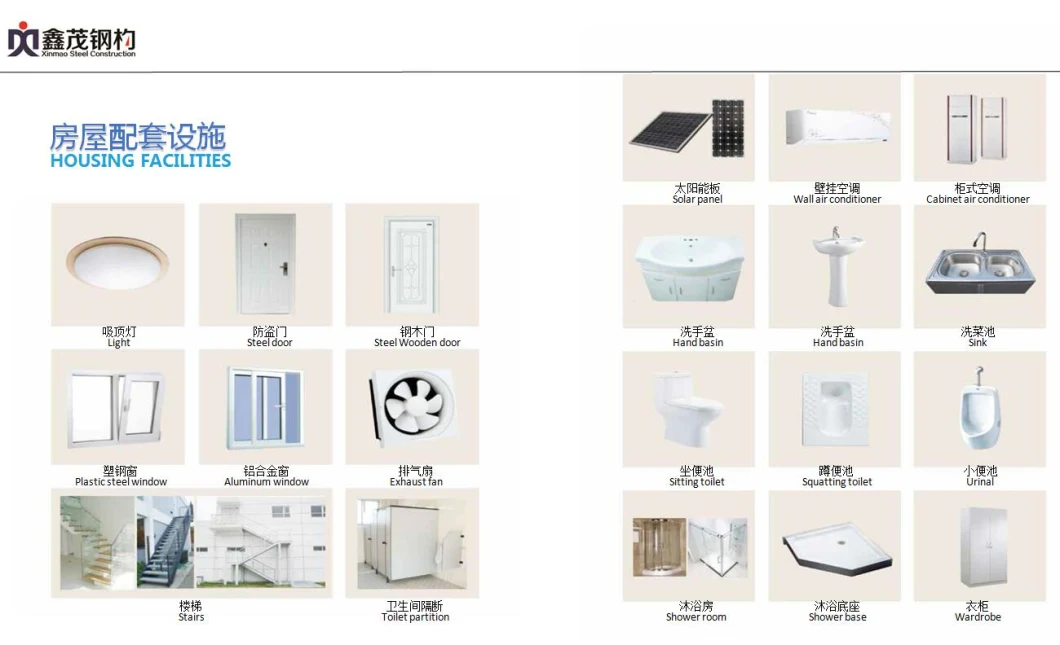 6.Package

4-1 For Modified Container House, it will be shipped directly;

4-2. For Flat Packed Container Model, it will be packed and loaded in the shipping container

A. 3-4 units of 20ft flat packed container houses will be loaded in one 20GP;

B. 8 units of 20ft flat packed container houses will be loaded in one 40HC;

C. 4 units of 40ft flat packed container houses will be loaded in one 40HC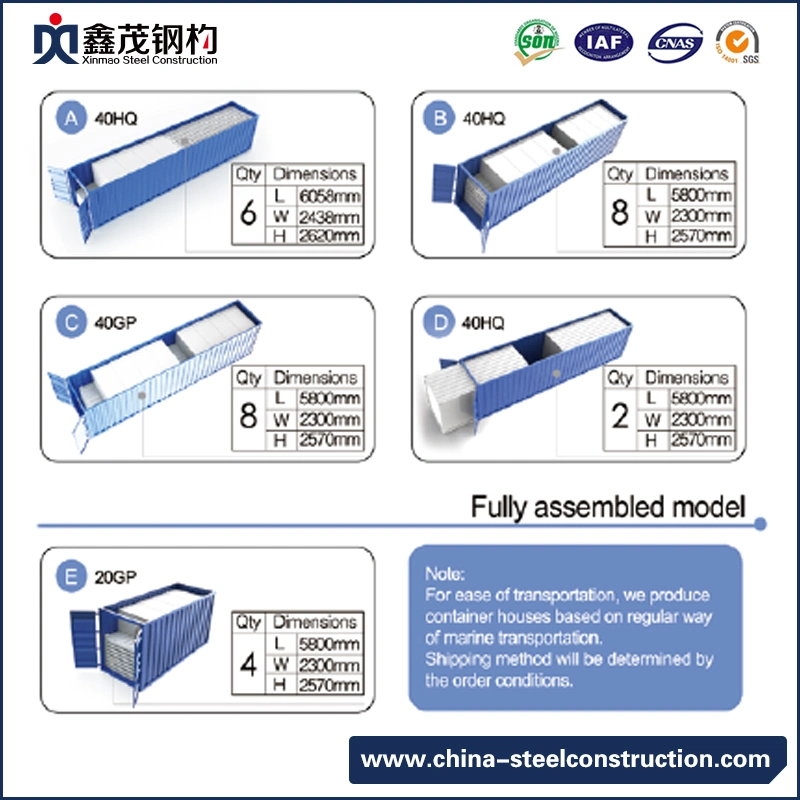 7.About us:
Qingdao Xinmao ZT Steel Construction Co., Ltd.Is one of the well-established company experienced and specialized in prefab light steel structure poultry&livestock farm house design and construction.The company was established in the year 2003 with more than 560 employee including 40 engineers, 12 designers, 25 technical personnel, has extensive experience in design, manufacture and installation of steel industrial buildings, agricultural steel buildings, barns, airport hangars and metal recreational buildings, there are hundreds projects spread in china and more than 10 countries around the world.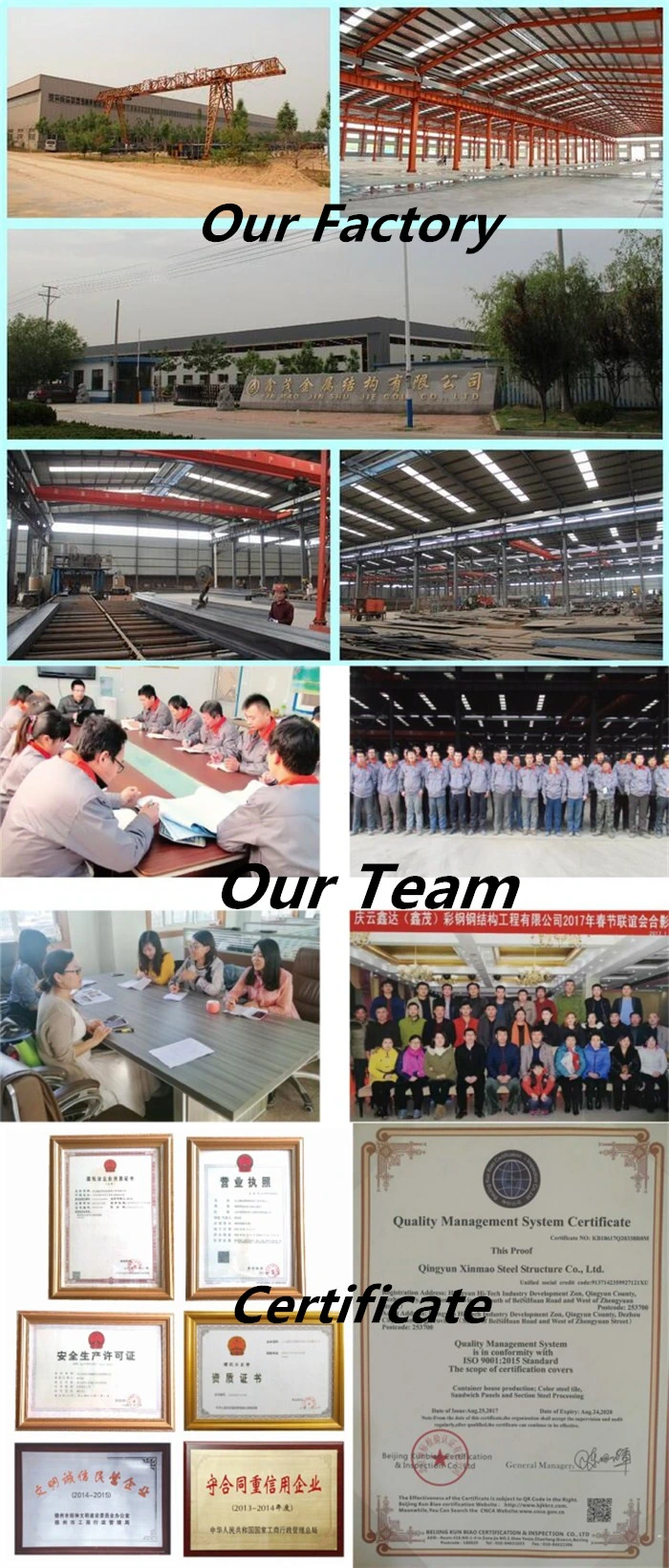 8.FAQ:


1. What is steel prefabricated house mean and made of?
RE: Steel prefabricated houses are made of high grade painted steel frame/structure as strong skeleton and lined with sandwich panel as wall and roof, these are pre-designed and manufatured in the factory and later assembled on site.
2. Is it safe and can suit to any kind of stringent weather conditions?
RE: Our houses could resistant earthquake, wind, snow, etc.

3. Can you supply design service?
RE: Yes.also supply design service.

4. What is the payment terms?
RE: a) T/T, 30% deposit and other payment will be payed when you receive the ocean bill.
b) 100% L/C at sight

5. How long is delivery?
RE: Generally, the delivery time of sandwich panel is within 7 days; and 30 days for prefabricated house. The exact delivery time should depend on the quantity and confirm with factories.
9.Projects Shows: